Historic/Cold Cases
28 Year Later, No New Clues to Fate of All 6 Pickering's Lost Boys
Jay Boyle, Chad Smith, Robbie Rumboldt, Jamie Lefebvre, Michael Cummins, Danny Higgins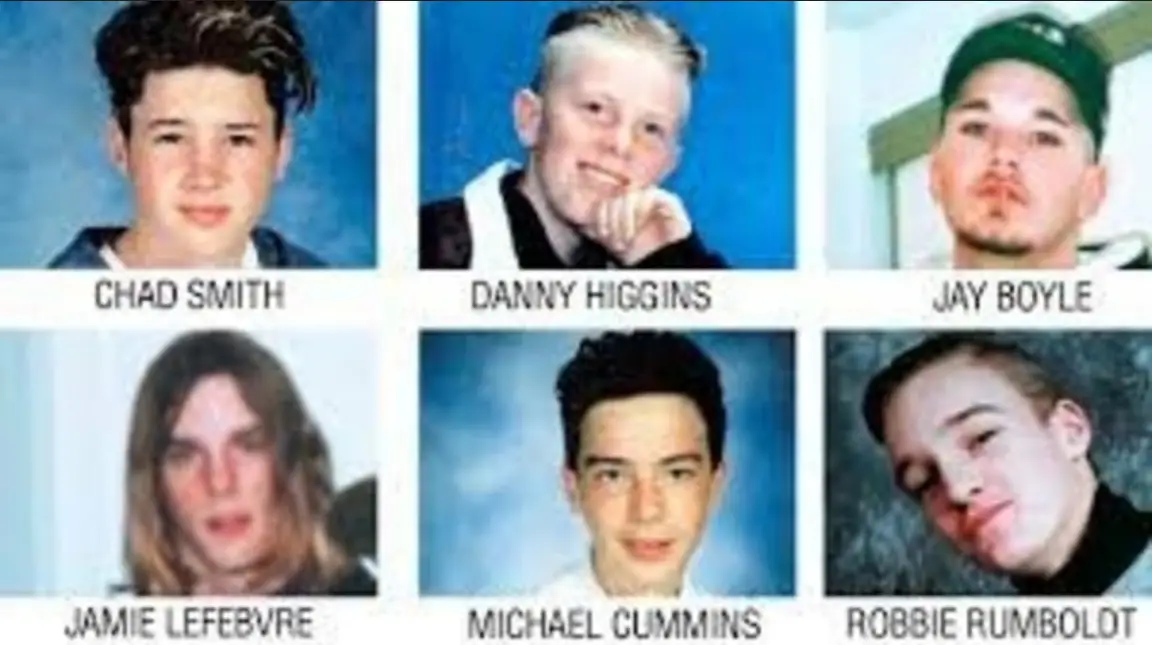 In what would become a fateful headline, the 'Lost Boys' of Lake Ontario – and an unsolved case of multiple missing persons – has left many questions unanswered for 28 years.
After leaving a neighborhood basement party on a cold night a group of six teenage boys (who had been drinking) headed out for some clandestine 'goofing around' at the Lake Ontario.
The last time the Lost Boys were seen was when they stumbled into the marina on March 17, 1995 after a night of partying. Jay Boyle, 17, was with Chad Smith, 18, Robbie Rumboldt, 17, all of Pickering; Jamie Lefebvre, 17, of Scarborough; Michael Cummins, 17, of Oshawa; and Danny Higgins, 16, of Ajax.
Jay was tall and muscular, and had a blazing fastball that labelled him as a baseball phenom in his early teens. He'd done time for assault and was facing more assault and weapons charges. He also had a daughter with his girlfriend Monique, who shared a rented basement apartment with Boyle.
That night, Boyle's mother was taking care of baby Kierra, who turns 21 this year (2021). The boys broke into two marinas and stole a four-metre imitation Boston Whaler, and made off with that, a three-wheeled paddleboat they boosted the night before and a case of beer they found in another boat. Residents heard the sound of a motorboat at 2:30 and 3 a.m., but the boys were never seen again.
A massive search effort was underway 36 hours after the boys were last seen. Durham and Toronto Police were joined by the Coast Guard, a Hercules C-130 aircraft and a helicopter from the Canadian Forces base in Trenton.
Nothing was ever found. None of their bodies nor the boats they were on have ever been found.
Forensic testing on a piece of clothing found in the Niagara River has yielded no new clues as to the fate of a group of teens. It took more than five years to get results of tests on a pair of distinctive red jeans found in 1998.
Boyle's family knew the DNA testing was a long shot, but still hoped it may provide some answer to the lingering questions they have about what happened to Jay and his friends. Instead, all the family has is their ongoing uncertainty.
"They got a significant amount of DNA from the jeans … but it didn't match my brother," said Siobhan Boyle, whose 17-year-old brother Jay Boyle disappeared along 5 other teens.
It is believed the six stole a boat and a water tricycle from a marina, then took to the frigid waters of Lake Ontario for an ill-fated joy ride. None have been heard from since.
SOURCE: https://ucfiles.com/Files/1995/the-lost-boys-of-lake-ontario/
Thank You For Visiting Missing People Canada
Please share our missing person posts on your social media accounts so that we can help bring them home!
You can also find our missing person posts on:
Facebook: https://www.facebook.com/MissingPeopleCanada
Twitter: https://twitter.com/OntarioNorth
Reddit: https://www.reddit.com/r/MissingPersonsCanada/
Instagram: https://www.instagram.com/missingpeopleca/

We also post videos on TikTok at https://www.tiktok.com/@missingpeoplecan

Donate To Missing People Canada: If you wish to donate to Missing People Canada please visit our donation page here: https://missingpeople.ca/donate-2/