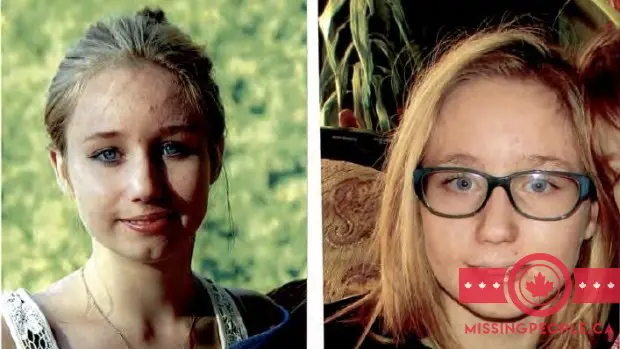 Mekayla Bali, then 16, was last seen on April 12, 2016. She was dropped off at school in Yorkton, Saskatchewan and left shortly after – surveillance footage shows her going to a bank, pawn shop, restaurant and making numerous phone calls that police have been unable to trace.
Mekayla was last seen at the STC Bus Depot in Yorkton at 1:45 p.m. on April 12, 2016.
While Mekayla was last seen in the STC Bus Depot in Yorkton, investigators have spoken with the employees working at the bus depot and determined she did not board a bus on April 12. Several sightings and tips have been reported to police. These have all been investigated and Mekayla has not been located.
Investigators have found no evidence Mekayla has a passport and investigators have no reason to believe she has left Canada. However, as is standard practice in an investigation like this, our law enforcement partners at border crossings have been notified the RCMP is looking for Mekayla.  All leads are being thoroughly investigated and investigators are not ruling out any possibilities.
At this point in the investigation, there is no indication of foul play; however, we must locate and speak with her to confirm her safety. Mekayla's family is concerned for her well being, and like us, wants to ensure she is safe.
Investigators will continue looking for Mekayla until she is located. If you have information to share or if you see Mekayla, do not wait – please contact police or report it IMMEDIATELY.
If you have any information please contact the Yorkton Municipal RCMP at 1-844-880-6518 or email RCMP.FBali.GRC@rcmp-grc.gc.ca.
If you wish to remain anonymous, please contact Crime Stoppers at 1-800-222-TIPS (8477), submit a tip via their website: http://saskcrimestoppers.com or text in a tip: TIP206 + your tip to CRIMES (274637).
Timeline
Approximately 8:20 a.m. – arrived at Sacred Heart High School
• Between 8:25 and 8:30 a.m. – leaves Sacred Heart High School
• Between 8:30 and 8:40 a.m. – walks eastbound on Smith Street West from the intersection of Smith Street West and Gladstone Avenue North
• Between 8:30 and 9:00 a.m. – enters Terry's Pawn and Bargain on 3rd Avenue North.
• Between 8:50 and 8:55 a.m. – enters and then exits the TD Bank at 63 Broadway Street East
• Between 8:55 and 9:00 a.m. – walks eastbound on Broadway Street East
• Between 9:00 and 9:15 a.m. – enters Tim Hortons at 160 Broadway Street East
• Between 9:15 and 9:30 a.m. – exits Tim Hortons and walks northbound on 8th Avenue North.
• Between 9:30 and 9:40 a.m. – walks westbound on 100-200 block Broadway Street East then momentarily walks northbound on 6th Avenue North
• Between 9:40 and 9:50 a.m. – walks eastbound in the parking lot of the 100-200 block of Broadway Street East between Giant Tiger and Superstore
• Between 9:50 and 9:55 a.m. – re-enters Tim Hortons at 160 Broadway Street East
• Between 10:40 and 10:45 a.m. – leaves Tim Hortons and walks westbound on Broadway Street East past the Kia Dealership, crosses the 7th Avenue intersection toward the Ramada Hotel, turns around and walks southbound on 7th Avenue for a short distance, turns around and walks past the Ramada Hotel, continuing west on Broadway Street East and past Robins Donuts
• Between 10:45 and 11:55 a.m. – whereabouts unknown – can you help investigators with this time gap?
• Between 11:55 a.m. and 12:00 p.m. – enters Sacred Heart High School
• Between 12:00 and 12:05 p.m. – leaves Sacred Heart High School
• Between 12:15 and 1:00 p.m. – purchases a meal at the Trail Stop Restaurant in the STC Bus Depot Building on 1 Ave North
• Between 1:00 and 1:45 p.m. – leaves the STC Bus Depot
The family of Mekayla Bali announced they will be offering a $50, 000 reward for information leading to the location of Mekayla. CONDITIONS APPLY.
Credit For Above: https://mcsc.ca/cases/mekayla-bali/
A recent tip this year (2019) says that Mekayla might have been spotted outside an Edmonton club in March.
A man in Edmonton thought he met Mekayla outside the Highrun Club in Edmonton's Capilano neighbourhood.
The man reportedly thought the young woman he spoke to seemed out of place. The interaction happened in March and the man didn't know Mekayla was missing.
When he later came across a missing person posting, he thought he recognized the woman in the social media post and called both RCMP and Paula's tip line.
RCMP contacted their counterparts at the Edmonton Police Service and tried to obtain surveillance video from the area, but were unsuccessful.
The manager of the Highrun Club told Global News there are no cameras outside at the strip mall and that any indoor surveillance is lost after about 60 days.
That means the RCMP cannot confirm the sighting. But officers didn't stop there.
"We continue to investigate Mekayla's disappearance and have worked with the Edmonton Police Service, homeless shelters and local businesses in the Edmonton area to help share our missing person's report," Const. Robert Head with the RCMP said.
Despite nearly three and a half years passing since Mekayla was reported missing, her mother still believes she could be reunited one day.
"In my heart, I feel that she is alive. I don't feel she's safe. I feel she's in danger," Paula explained.
"I hope that one day we'll see her again, and we'll all have some answers."
To date, 600 tips have come into RCMP about Mekayla, but Paula feels this one is being treated differently. She said a second sighting in Edmonton has also recently been reported.
Source For Above: https://www.msn.com/en-ca/news/canada/missing-teen-mekayla-bali-possibly-spotted-in-edmonton/ar-AAG8eSf
Other Links:
https://www.facebook.com/letsbringmekaylabalihome/
https://www.bringmekaylabalihome.com/
http://www.rcmp-grc.gc.ca/en/news/2017/12/missing-mekayla-bali
https://regina.ctvnews.ca/mekayla-bali-missing-for-three-years-1.4378268
https://www.nbcnews.com/feature/cold-case-spotlight/police-looking-break-two-year-anniversary-canadian-teen-mekayla-bali-n865641
https://newsinteractives.cbc.ca/longform/i-need-help-mekayla-bali-missing
https://beta.canada.com/news/local-news/missing-teen-mekayla-bali-possible-sighting-in-edmonton-has-family-hopeful/wcm/2128e00b-4c06-4f6c-a0bc-3d78c8faaa40/amp/
https://www.yorktonthisweek.com/news/local-news/mekayla-bali-reward-increased-to-50-000-1.23529214
https://saskcrimestoppers.com/cases/missing-mekayal-bali
https://thestarphoenix.com/news/local-news/missing-yorkton-teen-may-have-travelled-to-the-u-s
https://730ckdm.com/index.php/local-news/news/6568-yorkton-rcmp-search-area-near-high-school-in-mekayla-bali-investigation
Saskatchewan mother searches Lower Mainland for missing daughter
Thank You For Visiting Missing People Canada
Please share our missing person posts on your social media accounts so that we can help bring them home!
You can also find our missing person posts on:
Facebook: https://www.facebook.com/MissingPeopleCanada
Twitter: https://twitter.com/OntarioNorth
Reddit: https://www.reddit.com/r/MissingPersonsCanada/
Instagram: https://www.instagram.com/missingpeopleca/

We also post videos on TikTok at https://www.tiktok.com/@missingpeoplecan

Donate To Missing People Canada: If you wish to donate to Missing People Canada please visit our donation page here: https://missingpeople.ca/donate-2/