Maisy ODJICK was reported missing to the Kitigan Zibi (Anishinabek) Police on September 9, 2008 and Shannon ALEXANDER was reported missing to the Sûreté du Québec Police on September 10, 2008.  The girls were last seen together on September 6, 2008, in Maniwaki, Québec.  There has been no contact with family or friends since they disappeared.
The Ontario Provincial Police joined efforts with the Kitigan Zibi Police and the Sûreté du Québec in June 2009,  as a result of information received that the missing girls may have been sighted  in the Ottawa and Kingston area in Ontario.  The search for the missing girls is continuing.
Any person with information regarding the disappearance of Maisy ODJICK or Shannon ALEXANDER is asked to contact the Sûreté du Québec at 1-800-659-4264 (Provincial Criminal Intelligence Agency), the Director of Criminal Investigation Branch, Ontario Provincial Police, at 1‑888‑310‑1122 or (705) 329-6111 or their nearest  police agency.
Should you wish to remain anonymous, you may call Crime Stoppers at 1-800-222-TIPS (8477), where you may be eligible to receive a cash reward of up to $2,000.
Maisy ODJICK
Date of Birth: November 6th, 1991
Eye colour:  Brown
Hair colour:  Brown
Sex:  Female
Height:  5 foot, 10 inches
Missing from Kitigan Zibi First Nations, Québec
Shannon ALEXANDER
Date of Birth:  March 29th, 1991
Eye colour:  Brown
Hair colour:  Brown
Sex:  Female
Height:  5 foot, 9 inches
Missing from Maniwaki, Québec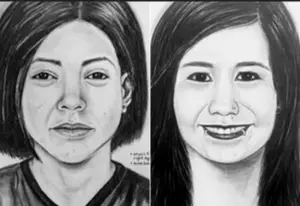 Also Read:
https://www.services.rcmp-grc.gc.ca/missing-disparus/case-dossier.jsf?case=2012020142&id=0
https://www.cbc.ca/news/canada/ottawa/timeline-disappearance-shannon-alexander-maisy-odjick-1.4212703
https://www.cbc.ca/news/canada/ottawa/disappearance-shannon-alexander-maisy-odjick-10-years-1.4813286
http://www.findmaisyandshannon.com/
https://ottawacitizen.com/news/local-news/tip-prompts-new-sq-search-for-missing-kitigan-zibi-women
https://ottawacitizen.com/news/local-news/police-hope-to-find-new-leads-to-help-with-10-year-old-case