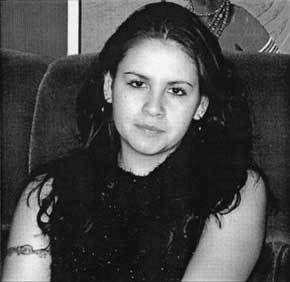 Lisa Marie Young was a 21-year-old indigenous Canadian who disappeared from Nanaimo, British Columbia, on June 30, 2002. She had spent the night at a local nightclub and several house parties, before accepting a ride to a fast-food restaurant, from a man she had just met. Although Young has never been found, her disappearance is being investigated as a homicide.
Early life
Lisa Marie Young was the eldest child and only daughter of Don Young and Marlene "Joanne" Martin. She has two younger brothers, Brian and Robin. Martin was a member of Tla-o-qui-aht First Nation on the west coast of Vancouver Island and both of her parents attended Kakawis Residential School on nearby Meares Island.
Young was close with her family. Martin described her as an independent woman who was a hard worker with a hard head, and had "inner strength that was totally awesome." Dallas Hulley, an acquaintance of Young and the last person to hear from her, described Young as "outgoing, confident, bubbly," and said "She was somebody you noticed right away, at a party or a gathering, or whatever it was. She just had a light about her."
At the time of Young's disappearance, her father was helping her move into her own apartment in northern Nanaimo, something she was excited about. Young was also preparing to start a job at a call center within two days of her disappearance, and considered pursuing higher education, with the hopes of becoming a television sports broadcaster.
Disappearance
On the night of June 29, 2002, Young left her parents' residence at 11:00 p.m. to go to a nightclub with several friends. Her parents found it strange, as Young had a busy schedule for the week.
Investigation
On June 30, 2002, Young's parents failed to hear from her. At first, they thought it was possible Young was too busy to answer her cell phone, but grew concerned when Young's former roommate visited to ask about Young's whereabouts. After calling every phone number in her phone book, Young's parents contacted the Royal Canadian Mounted Police (RCMP) detachment in Nanaimo. In the beginning, Young's parents were told to call when she had been missing for over 48 hours, however an RCMP officer came over to the Young's household later that evening to ask questions and get Young's picture. A few days later, the RCMP told Young's parents that her disappearance was being investigated by their Serious Crime Unit.
Police quickly concluded that foul play was likely involved after Young left a house party in the Cathers Lake area and subsequently, several searches were conducted in remote areas in and near Nanaimo, revealing nothing.
Following a one-year vigil held for Young in 2003, Lisa's mother was contacted by Chemainus psychic Christine Brant. Based on the information provided by Brant, Young's family asked Terry Tom and Andrew Jackson — both certified divers from Young's west coast Tla-o-qui-aht band — to search the reservoirs at Colliery Dam Park, located between Nanaimo Lakes Road and Harewood Mines Road. A private dive team conducted a subaqueous search at the park on July 25, 2003.
In May 2020 (18 years after Young's disappearance), Laura Palmer's true-crime podcast "Island Crime" published its inaugural season, entitled "Where Is Lisa?". The 8-episode season consists of in-depth discussion and interviews surrounding the circumstances of Young's disappearance, as well as later further episodic updates. The podcast surged to one of Apple's top Canadian true crime podcasts, later gaining international attention, with Chartable ranking it as high as #1 Canadian Podcast. The podcast is credited with generating significant new interest in the case including several tips leading investigators to conduct multiple new searches.
During a House of Commons debate in Ottawa on October 8, 2020, discussing the amendment of Bill C-3 to the Indian Act, MP Paul Manly presented several concerns surrounding the handling of Young's case, stating allegations that police efforts and investigation were affected by Young's indigenous heritage, as well as specific concerns including that the "RCMP dismissed an urgent call from a witness who is believed to be an associate of Lisa's killers…that Lisa's body was being moved at that moment…from the original location, and the RCMP ignored that call"; Manly further stated that police failed to interview staff or patrons of the nightclub where Young was last seen; a Crime Stoppers video was not produced until 2009, only after pressure from Young's family; the Crime Stoppers video inaccurately portray the suspect. He also discussed a rumour that the prime suspect is a police informant and further stated "Lisa Marie Young's case shows we need to do more than amend Bill C-3".
In December 2020, Nanaimo RCMP conducted searches related to the case, at two locations in Nanaimo, as well as part of Morrell Nature Sanctuary.[18] One of the locations was a residential property located at 827 Nanaimo Lakes Road, which is adjacent to Morrell Sanctuary and less than 200 meters from Colliery Dam's upper reservoir.
In June 2021, the Nanaimo RCMP hosted a press conference on the front steps "to provide an update on the status of the Lisa Marie Young missing person investigation". RCMP Cpl. Markus Muntener, current co-lead investigator on the case, reported that based on new and historical information, "numerous searches" for Young have taken place in the last year, utilizing ground-penetrating radar and a police dog, and he said additional searches at undisclosed locations were planned.
There have been no arrests made in connection to Young's disappearance, despite police having received "15,000 documents and hundreds of witnesses in Young's file".
Aftermath
Allison Crowe, a friend of Young's, has since produced and released a song titled "Lisa's Song" in memory of Young.
Each year since 2003, Young's loved ones and supporters have gathered on or around June 30 for a "Walk for Lisa," beginning at the Nanaimo RCMP Detachment and marching through the streets of downtown Nanaimo to ensure her disappearance remains in the public eye.
Young's mother experienced health complications after Young vanished. Before Martin died on June 21, 2017, she had been taking dialysis, suffered from hypertension, and was on a waiting list for a kidney transplant. Martin's family members believe the cause of her deteriorating health was from the stress of not knowing what happened to her daughter. Martin's sister, Carol Frank, revealed that Martin tried to hide her and Young's First Nations ancestry from the public, out of fear that Young would be assumed to be a sex worker, an alcohol or drug addict, or living on the streets.
Hulley, the last person to hear from Young, died on March 25, 2018. While walking along British Columbia Highway 19A with a 27-year-old female friend at 1:00 a.m., he stepped into the northbound lane to retrieve something he had dropped, only to be struck by a car. He was pronounced dead at 6:15 a.m. the same day. Although the 62-year-old female driver was driving at least ten kilometres under the speed limit, she was unable to avoid him, due to the lack of reflective clothing. He was 38-years-old at the time of his death.
In recent years several popular podcasts have published episodes about Young's case, including Casefile (2016), Island Crime (2020), Stolen Sisters (2020), Podcast by Proxy (2021), True North True Crime (2021), Crimelines (2021), Vancouver True Crime (2021) and Grisly Grapes (2022).
In May 2020, Where Is Lisa? an 8-episode season true-crime podcast about Lisa Marie Young's case was published. Lisa's story was the first season of a series entitled Island Crime by journalist Laura Palmer.
In March 2021, Nanaimo Mayor Leonard Krog officially proclaimed June 26 as "Justice for Lisa Marie Young Day" and June 30 as "Lights on for Lisa" when people are encouraged to participate by leaving porch lights on to recognize Young's disappearance.
At a House of Commons Debate in Ottawa on November 26, 2021, MP Lisa Barron stated that she is a friend of Lisa Young, and formally asked the government to "immediately implement the calls to justice of the Inquiry into Missing and Murdered Indigenous Women and Girls."
Over the years, several Reddit threads, originating locally and internationally, have surfaced extensive discussion and theories surrounding Young's case and persons of interest.
In February 2022, an anonymous American donor offered a US$50,000 reward for information that leads investigators to the location of Young's remains. RCMP Constable Hayley Pinfold stated that investigators are "hoping that this might be enough to encourage some of those people to bring those final pieces forward".
Credit: https://en.wikipedia.org/wiki/Disappearance_of_Lisa_Marie_Young
Also Read:
https://www.cbc.ca/news/canada/british-columbia/lisa-marie-young-vigil-continues-16-years-later-1.4729649
https://www.mccollmagazineonline.com/lisa-marie-young-disappearance.html
https://www.nwac.ca/alerts/lisa-marie-young/
Thank You For Visiting Missing People Canada
Please share our missing person posts on your social media accounts so that we can help bring them home!
You can also find our missing person posts on:
Facebook: https://www.facebook.com/MissingPeopleCanada
Twitter: https://twitter.com/OntarioNorth
Reddit: https://www.reddit.com/r/MissingPersonsCanada/
Instagram: https://www.instagram.com/missingpeopleca/

We also post videos on TikTok at https://www.tiktok.com/@missingpeoplecan

Donate To Missing People Canada: If you wish to donate to Missing People Canada please visit our donation page here: https://missingpeople.ca/donate-2/