Toronto police have released a composite sketch of a young girl whose remains were discovered in a Rosedale dumpster last month.
Officers received a call for a medical complaint when a worker found the child's remains in a dumpster outside of a home under construction on Dale Avenue, near Castle Frank Road.
Police later confirmed the girl is between the ages of four and seven and believe she may have been deceased for nearly a year before the discovery of her body.
Investigators say the body was left in the area sometime between noon on April 28 and when it was discovered around 4:45 p.m. on May 2. However, they suspect the child may have been dead since last summer or sometime before, perhaps as early as the fall.
Toronto Police Insp. Hank Idsinga said an analysis was conducted that revealed 58 missing children around Canada and, specifically, in the province of Ontario.
Idsinga says while it's unconfirmed whether the child arrived from overseas, it's been determined unlikely that the girl was reported missing.
"There is no evidence linking any of the missing 58 children to our case," Idsinga said on Tuesday. "Since May 2, eight of the 58 [children] have been accounted for."
Police have also identified a vehicle of interest in the case and released composite and stock photos. It is described as a dark-coloured Porsche Cayenne SUV with the model year between 2011 and 2014.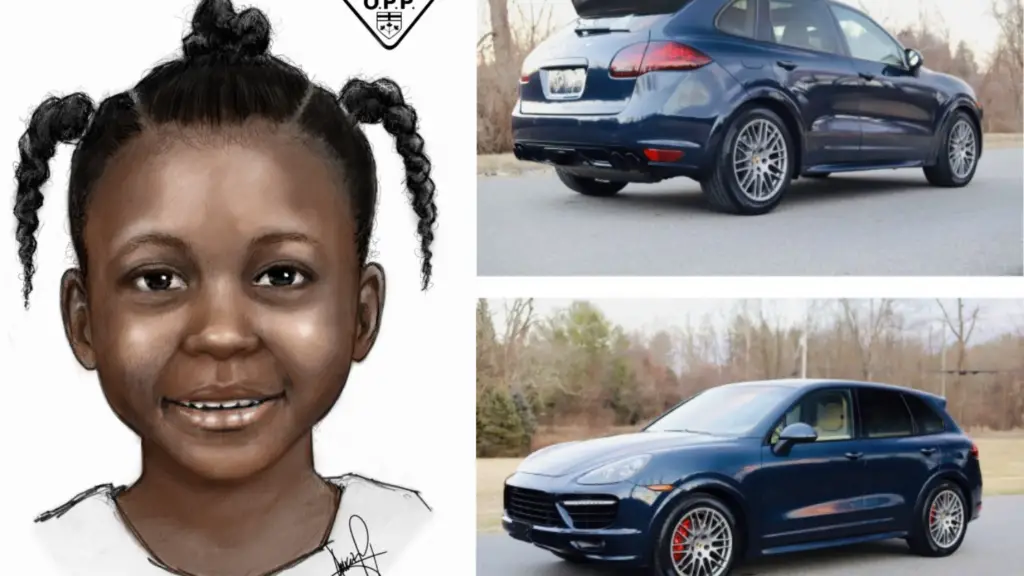 Idsinga says the identified suspect vehicle was observed in security footage stopping on Dale Avenue in the area of the dumpster on April 28 at 10:26 p.m., idling for 21 seconds. He says the vehicle "inexplicably" stops by the dumpster around the same time investigators believe the body was disposed of.
"We hope that someone may recognize the vehicle or witnessed it in the area that night."
Police are not yet classifying the death as a homicide despite the involvement of the Homicide Unit.
The girl is described as Black, of African or mixed African descent, three-foot-six inches tall with a thin build. She has black curly hair sectioned into four ponytails, two of which were braided with black and blue bands.
Idsinga emphasized that the tone of the girl's skin in the coloured photograph is an approximation and may not be completely accurate.
Police say she has all of her teeth and was wrapped in a crochet blanket inside a plastic bag. The bag was dressed in a colourful blanket.
Idsinga says that the investigation has led the Homicide Unit "down some interesting roads," but they do not have anything concrete yet.
The Toronto Police Insp. says they're awaiting forensic information, adding that this case could remain undetermined for "quite some time."
Anyone with information is asked to contact police at 416-808-5300 or Crime Stoppers anonymously at 416-222-TIPS (8477) or www.222tips.com.
https://toronto.citynews.ca/2022/06/07/girl-remains-rosedale-dumpster-sketches/