Articles/Notices
Its been over 202 Days Since Elnaz Hajtamiri was abducted from Wasaga Beach, Ontario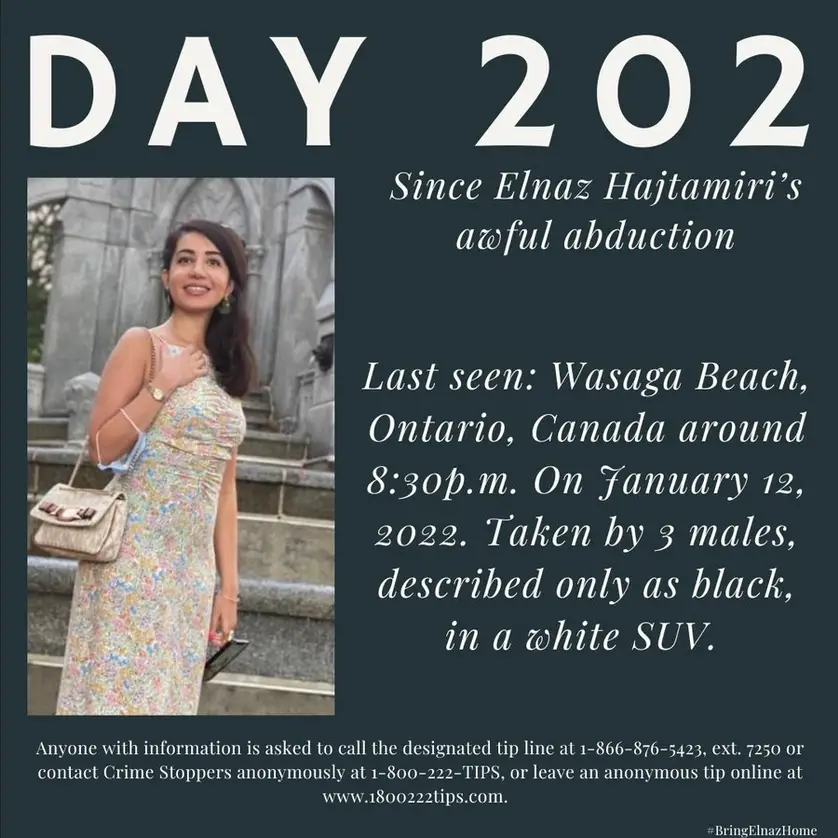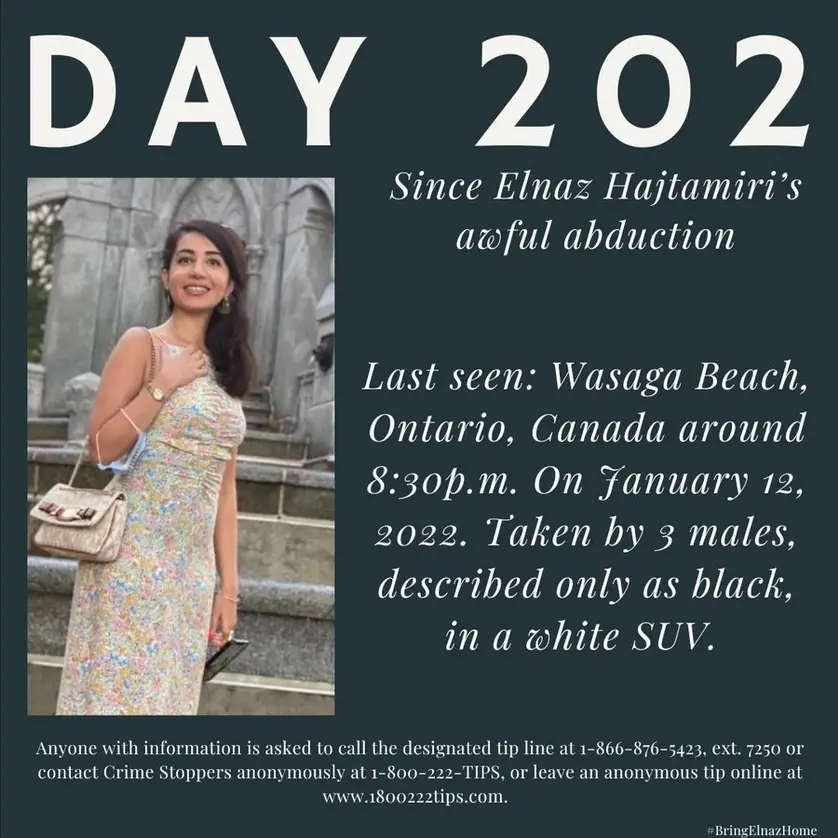 On a cold winter's night in a deathly quiet summer resort town, evil descended upon a non-descript suburban-style home.
This is not a TV listings summation of a B-movie thriller. It's terrifyingly real.
On Jan. 12, 2022, three armed men dressed in police garb banged on a door in Wasaga Beach, and snatched Elnaz Hajamiri, reportedly hiding out with relatives from an allegedly abusive boyfriend or some other form of trouble.
The men fled in a white 2016-22 model Lexus RX (possibly 350) SUV.
Today marks Day 202 since the 37-year-old woman's kidnapping. And there are still no answers as to what happened to the Iranian immigrant.
In the world of violent crime investigations, it's a well-known fact that the first 48 hours are crucial to solving the case. After that, the odds drop by 50%. The first 48 is way in the distance in the Hajtamiri investigation.
But there are a number of factors at play in the probe.
The first sign of trouble came on Dec. 20, when Elnaz was attacked in an underground parking garage in Richmond Hill and violently assaulted with a frying pan. Fortunately, the attack was interrupted.
Riyasat Singh, 23, of Mississauga and Harshdeep Binner, 23, of Brampton, are charged with attempted murder, attempted kidnapping, possession of property obtained by crime over $5,000 and mischief under $5,000.
Then, there is Elnaz's ex-boyfriend. Mohamed Lilo of Montreal is charged with criminal harassment. Those charges were laid nine days after Elnaz was kidnapped.
Lilo allegedly hired a private detective to keep Elnaz under watch. Exactly why he may have done this isn't clear.
The OPP have said since the beginning, there has not been a ransom demand from the kidnappers — or anything else.
At the three-month anniversary of the brazen and bizarre kidnapping, Elnaz's mother made a tearful plea for information and for her daughter to be safely released.
"I beg of you as a mother to guide us and tell us anything you know. Please, I beg you to help us. We are living a desperate life. Please help us find Elnaz," Fariba Hajtamiri pleaded.
202 Days later, nothing.
In the months prior to the kidnapping, Elnaz had quit her job at an import-export company with dreams of becoming a baker and opening her own business.
Did leaving her job put Elnaz in the line of fire? Did she know too much? Or was it something else?
That is all speculation, but there has been much of it since the beloved woman was brazenly grabbed.
In the words of U.S. cops, the Elnaz Hajtamiri case remains a "red ball," indicating priority importance and implications beyond the criminal investigation.
OPP Det.-Insp. Martin Graham was unavailable for comment. Hajtamiri's family's lawyer did not return messages from the Toronto Sun.
"We know someone is out there who has information about Elnaz's whereabouts. Perhaps a friend, a contact, a co-worker or member of a community or social group of which she was a part," Graham has said.
"My biggest hope is that Elnaz is alive. My biggest fear is that she is not."
The long cold winter has turned to summer. There have been few stories or media releases since the kidnapping's three-month anniversary about the fate of poor Elnaz Hajtamiri.
So far, cops have not called the investigation a homicide investigation. But there are fears that's what it will turn into.
If you have any information, contact the OPP's dedicated tip line at 1-833-728-3415 or remain anonymous by contacting Crime Stoppers at 1-800-222-8477.
Article Source: https://torontosun.com/news/provincial/hunter-six-months-later-no-answers-in-elnaz-hajtamiri-kidnapping
Thank You For Visiting Missing People Canada
Please share our missing person posts on your social media accounts so that we can help bring them home!
You can also find our missing person posts on:
Facebook: https://www.facebook.com/MissingPeopleCanada
Twitter: https://twitter.com/OntarioNorth
Reddit: https://www.reddit.com/r/MissingPersonsCanada/
Instagram: https://www.instagram.com/missingpeopleca/

We also post videos on TikTok at https://www.tiktok.com/@missingpeoplecan

Donate To Missing People Canada: If you wish to donate to Missing People Canada please visit our donation page here: https://missingpeople.ca/donate-2/