Articles/Notices
A Hamilton MPP is calling for OPP to have more Amber Alerts authority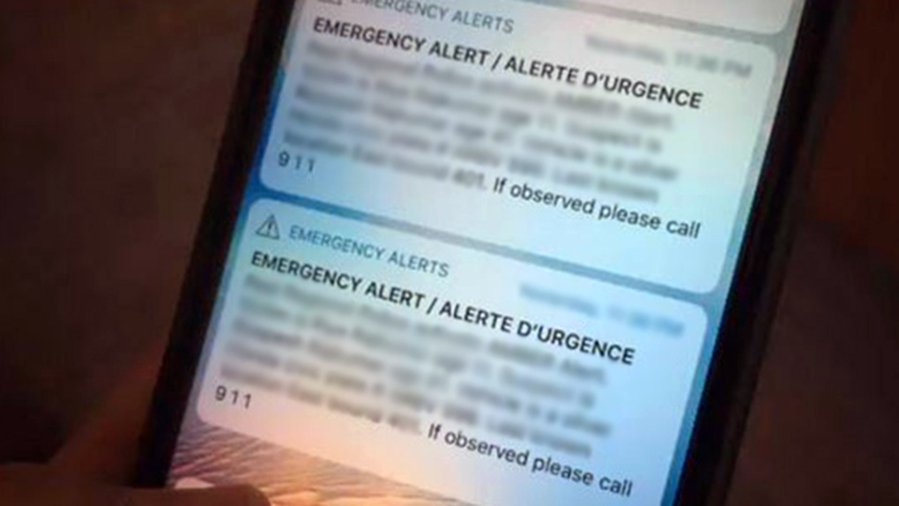 Shortly before Christmas, an 80-year-old woman with dementia who wasn't dressed properly for the weather was found dead after going missing in MPP Monique Taylor's Hamilton riding.
And while the police, members of the public, and the media did what they could to help find Shirley Love, there was no way of alerting the community directly to the disappearance of this highly vulnerable individual.
Taylor, who is the Ontario NDP's critic for Children, Community, and Social Services, wants that to change.
Earlier this week, the Hamilton Mountain representative tabled Bill 74, Missing Persons Amendment Act, 2023.
The proposed legislation would give the OPP the authority to issue an emergency alert for any missing person who, "because of their age, a disability or other circumstances, whether temporary or permanent, is in a position of dependency on others or is otherwise at a greater risk than the general population of being harmed by a person in a position of trust or authority towards them."
"This bill fills an important gap in the current emergency alert system," Taylor said in a March 7 news release.
The concept is similar to an Amber Alert, which is issued when a child under the age of 17 is abducted and is facing an imminent risk of bodily harm or death, but is much wider in scope as it could be used when a child with autism, an adult with a disability, or a senior with Alzheimer's goes missing from their home.
"Last year, the Lindsay community mourned the loss of a young boy who tragically lost his life several days after going missing from his home," she said in a release.
"An Amber Alert could not be issued to help the community's search. As a result, tragedy struck, and a family was left heartbroken."
The Hamilton MPP said she appreciates that some people are fed up with receiving Amber Alert notifications on their phone and TV at all hours of the day and night, and many times from no where near their home, but said her system aims to be much more hyper-local.
"It would ensure that the OPP are able to send targeted, regional alerts to help find vulnerable people when they go missing and make sure they get home safely. This is an important tool families can use to help find their loved ones in an unthinkable situation," said Taylor, who elaborated on that idea during a Wednesday morning interview with NewsTalk 1010's Moore in the Morning.
"If a child goes missing or a senior goes missing, it's very likely that they're in their own neighborhood or close to, so the proximity would be able to be narrowed down to the to their local area, so we're not going to receive alerts for people in the north or, you know, 100 kilometers away, that wouldn't be the case. It would be narrowed down to the region and the area," she told John Moore.
"When somebody gets an alert, it's like, 'Oh my goodness, my neighbour around the corner is in distress,' then people are going to jump into action. I think the goal and the key here is just to let people in the neighborhood and in the area know that someone is missing."
Taylor went on to say that she believes her proposed alert system for missing vulnerable persons will save lives, noting several city councils, including Brighton, Cobourg, Mississauga, Magnetawan, and Mattawa , have already passed resolutions calling for the creation of this type of system.
Bill 74 is set to receive its first reading on March 29 at Queen's Park.
"I am confident in this solution," Taylor said.
"I am proud to put forward this bill and I hope that the Ford government will help us help make the system safer for vulnerable people across the province."
https://toronto.ctvnews.ca/a-hamilton-mpp-is-calling-for-more-amber-alerts-in-ontario-1.6304765
Thank You For Visiting Missing People Canada
Please share our missing person posts on your social media accounts so that we can help bring them home!
You can also find our missing person posts on:
Facebook: https://www.facebook.com/MissingPeopleCanada
Twitter: https://twitter.com/OntarioNorth
Reddit: https://www.reddit.com/r/MissingPersonsCanada/
Instagram: https://www.instagram.com/missingpeopleca/

We also post videos on TikTok at https://www.tiktok.com/@missingpeoplecan

Donate To Missing People Canada: If you wish to donate to Missing People Canada please visit our donation page here: https://missingpeople.ca/donate-2/