Historic/Cold Cases
The Disappearance of David Fortin – Missing Since Feb 10, 2009 from Alma, Quebec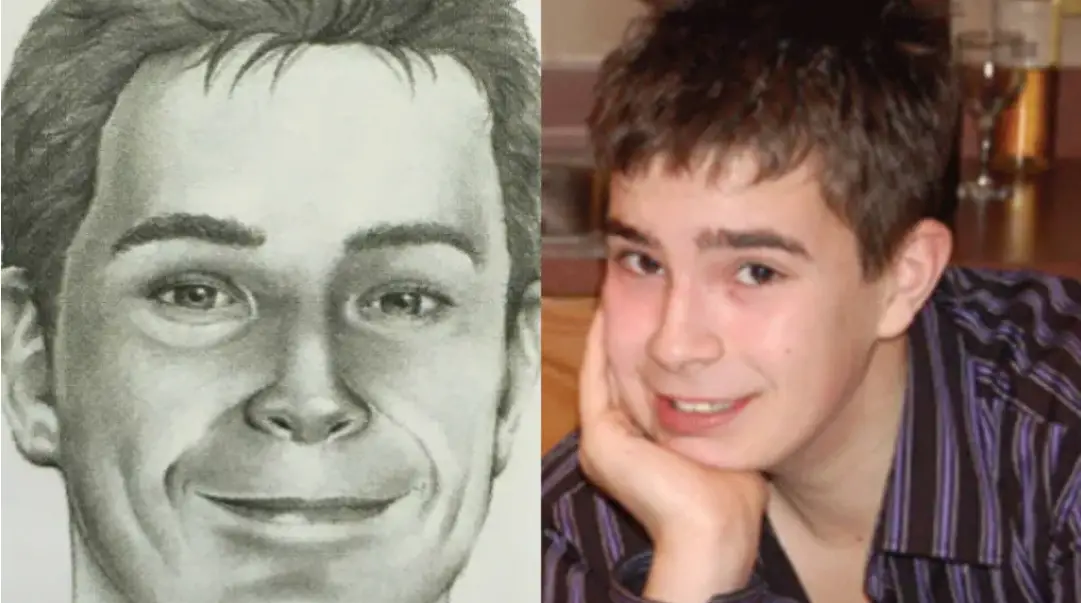 Just before 8 am on 10 February 2009, David Fortin asked his mother for a ride to his highschool. She couldn't, so he instead put on his red winter jacket and walked to his bus stop. When the bus arrived at 7:55, he wasn't there. He was never seen again.
Alma is a town (2011 population: 30,000) in Quebec, Canada, near Lac Saint-Jean (St. John Lake). It sits on the Saguenay River which connects Lac Saint-Jean to the St. Lawrence River, a major waterway which connects the Great Lakes to the Atlantic Ocean. There are a few big highways in the area which connect to bigger cities, although cities like Montreal are still fairly far away. Map.
Earlier that morning, before dawn, David had climbed into his mom's bed like when he was a small child, and said, "Hug me, Mom, warm me up". At breakfast, he barely touched his food, which was unusual since he was usually hungry. It was -25C (-13F) that morning, -29C (-20F) with the wind chill.
David faced relentless bullying at school, detailed below. His parents, Caroline Lachance and Eric Fortin, have never stopped looking for him and are convinced that he ran away to escape the bullying from his classmates. David didn't speak much and didn't mention to his family how things were going at school, although they knew he had been bullied since grade school. The night before he disappeared, he said that he had received a threat that he'd be hurt at school (also detailed below). His mother said that the bullying ranged from verbal harassment to physical assault. The school had even assigned a security guard to keep an eye on David every day.
Several people reported David heading southwest, through the towns 'Metabetchouan' and 'Lac-Bouchette', possibly heading towards the more rural area of Mekinac, north of Trois-Rivieres, a bigger city on the St. Lawrence River, 1.5 hrs' drive from Montreal. That is to say, if one wanted to go from Alma to Trois-Rivieres, both Metabetchouan and Lac-Bouchette lie on major highways which one would take for that trip. It's easy to see the path on this map. It's impossible to verify the accounts but his mom believes the description matches her son and that her son may have headed that direction without really knowing where to go.
On 15 February, a truck driver picked up a teenager resembling David on a small road near Berthierville, which is 4.5 hrs southwest of Alma. He dropped the boy off at a roadside shrine near St. Thomas, 65 km northeast from Montreal. The driver went to light a candle, but when he returned he saw the boy get into a blue 4 door subcompact car. The driver was questioned by police and passed a polygraph test.
Extensive searchs were done regionally and across Quebec, including a poster campaign. It generated thousands of tips but no concrete leads. People have contacted authorities believing to have seen Fortin in various places in Montreal, and in other Canadian cities, but none of these panned out.
Police divers searched the Petite Décharge River which crosses Alma. Hundreds of local residents searched the woods near his house and distributed more than 20,000 posters of David. CIBC Visa and Rogers published David's photograph on envelopes. The Sun Youth Organization posted a $10,000 reward.
David's life
This part is optional – you can skip to "the left messages" section since it's lengthy, but it's a good description of David's life before his disappearance.
At 6 years old, David couldn't settle down in class. The principal advised for David to take Ritalin and a psychiatrist diagnosed ADHD. Medication helped him concentrate, but teasing from the first day of school because of a speech impediment only got worse. He never fought back, and his only friend was a girl who was often bullied.
To frame just how awful his bullying was, I will give some examples. In grade school, his teachers would dismiss him early so he could run home before the other kids got out of school, so they wouldn't beat him up or throw snowballs at him. If he didn't have time, he'd hide or wait for his younger sister to come. Gangs of kids would wait for David at lunch and after school.
In 2008, he was cycling home when a gang chased him into a dead end and took his bike. He had to wade through waist-deep water through a creek and ran to the nearby house of his older cousin, Maxime, who reported it to the police. Maxime's wife looked outside and saw a gang of 20 young people out in the street and asked David what happened. David lied at first, saying he'd fallen into the water, but eventually admitted the kids had pursued him and taken his bike. He begged her to not tell his mom. Unfortunately, the police just told David, "just stay away from that neighbourhood", so David thought to himself that even the police aren't on his side.
He started failing in school, had to repeat grade 8, and was placed in a class for students with learning difficulties. The girl who was his only friend started avoiding him. During that 2nd grade 8 year, some kids discovered Hannah Montana music on his iPod (popular at the time) and accused him of being gay, using derogatory french terms I won't repeat here. His mom said David had downloaded the music for his sister at school since they didn't have a computer at home.
In December 2008, he started taking long walks alone after dinner. Maxime had also endured bullying when he was young, and thought that David took the walks to reflect on his life. Maxime had considered suicide during these walks, and David's mother, worried about the silence and the solitary walks, took him to a child psychiatrist. The psychiatrist said that David was in danger at school, so his mother called the assistant principal to demand that steps be taken to stop the bullying, but nothing was done.
David's mom says he stopped telling her about the bullying because he knew it upset her. He told her that if he told her and she told the principal, it would make the bullying worse and he would get picked on more.
The bullying finally stopped when he was 14, when he lost his temper and knocked a boy who'd been bullying him to the ground, which drew blood.
On 28 January 2009, his mom called Maxime in a panic. It was almost dinner and David hadn't returned from school. That afternoon, David had told a girl in his class that he was fed up and decided "to disappear". Maxime put on his truck's searchlights and set out to find his cousin. He spotted David on the town's main road, l'avenue du Pont. This road links the two sides of Alma over the Saguenay River, but I don't know at which part of the road David was found at. David was chilled to the bone and had been wandering around for hours, so Maxime took him to a McDonald's to warm up, asking how he was doing. David answered, "I'm really at the end of the rope. I can't take it anymore." They went back to Maxime's home where Maxime suggested getting together soon for dinner together and skating, but David declined, saying he had no skates, and turned down Maxime's offer to borrow some. Maxime says David was able to camouflage his sadness, his emotions, all the unhapppiness he was living through. He knew how to conceal the horror he was living through behind a smiling face." When Maxime drove David home later that night, a cop was waiting to question David, who wasn't happy. Maxime wished he had prepared David for the cop's presence, as David was not somebody who trusted easily – you had to take time to build his trust. Maxime feels, looking back, that the opportunity to gain David's confidence had been lost that night, as David wasn't warned about the cop. Maxime says, regarding, David, "I think he had lost faith in the system. Because normally, when you go to school, you should feel safe…I think that was the straw that broke the camel's back, the fact that the police got involved."
For the next 2 days, his mother didn't send him to school and he seemed serene being safe at home. However, the police reported David's runaway to the youth protection authorities. A psychologist from the local community center contacted David's mom and agreed to write a note excusing David from school for 2 days. She told her that David was legally obligated to be in school until he was 16 yo (this is a Canadian law that kids must be in school until 16 yo).
So, on 2 February, his mom sent him back to school. He didn't want to go but he went without a fight. His mom sadly says, "He never put up a fight about leaving in the morning. And we kept sending him back to school, despite everything". On 9 February, David was in gym class when some kids started playing with a fire extinguisher. David reported it to the teacher and one of the boys vowed to make David sorry for tattling, saying "I'll smash your face".
The left messages
Claude Poirier is a negotiator and crime reporter for the francophone tv network TVA. He is known for negotiating with suspects in hostage situations. He hosts a show called Le Vrai Négociateur similar to the popular show Frontline – the show discusses cases of justice and crime.
In September 2011, it was reported that during one of the show's episodes, Claude said that a person (unknown if male or female) left him messages on behalf of David Fortin and a third person. In one of the messages, the person says that David is ready to return home, but under the condition that he be left alone, his parents leave the Jehovah's Witnesses and respect his sexuality, and that no charges be brought against the person helping David. The message-leaver says if not for this other person, David would have taken his own life.
Claude clarified that he never directly spoke to this person and can't promise that no charges will be brought against the person who supposedly helped David. When consulted by Claude, David's mother says that the only thing that's important is finding David and that they are thankful for the person who helped David. She says that his orientation had never been discussed and that it is not an issue. She also clarifies that nobody in the family belongs to Jehovah's Witnesses.
Claude broadcast two messages by his mother at the end of the program. In the first message, she says that the Youth Protection had closed the file for her son. She had contacted a lawyer who assured her that no charges would be brought against the person who helped her son. Also, that the police told her they wouldn't prevent David coming home. In the second message, she says she is willing to meet David either alone or with Claude, if David accepts. She says that David knows he can trust her and all she wants is for David to be happy and that he can trust Claude if that's the only way he thinks he can return. She says that David can count on her and his dad to always be there for him and no matter what they both love him.
Credit: https://r.nf/r/UnresolvedMysteries/comments/slg2jt/on_the_morning_of_10_february_2009_14_yo_david/
Website for David with lots of photos, videos, missing person articles, and interviews: http://www.davidfortin.ca/
Also Read:
http://reseauenfantsretour.ong/wp-content/uploads/2016/05/Poster-Disparu-David-Fortin.pdf
https://www.lapresse.ca/actualites/justice-et-faits-divers/faits-divers/201902/03/01-5213384-dix-ans-sans-nouvelles-de-david-fortin.php
https://www.cbc.ca/news/canada/montreal/missing-saguenay-boy-threatened-a-day-before-disappearance-parents-1.831075
https://www.tvanouvelles.ca/2011/09/07/david-fortin-pret-a-revenir-chez-lui
https://meurtresetdisparitions.com/en/2019/10/03/alma-david-fortin-missing-since-february-10-2009/
https://www.thestar.com/news/canada/2009/03/11/10000_reward_offered_for_return_of_missing_quebec_teen.html
https://ici.radio-canada.ca/nouvelle/550812/david-fortin-colombie-britannique
Thank You For Visiting Missing People Canada
Please share our missing person posts on your social media accounts so that we can help bring them home!
You can also find our missing person posts on:
Facebook: https://www.facebook.com/MissingPeopleCanada
Twitter: https://twitter.com/OntarioNorth
Reddit: https://www.reddit.com/r/MissingPersonsCanada/
Instagram: https://www.instagram.com/missingpeopleca/

We also post videos on TikTok at https://www.tiktok.com/@missingpeoplecan

Donate To Missing People Canada: If you wish to donate to Missing People Canada please visit our donation page here: https://missingpeople.ca/donate-2/