Historic/Cold Cases
The Disappearance of Courtney STRUBLE – Missing From Estevan, Saskatchewan – Since 2004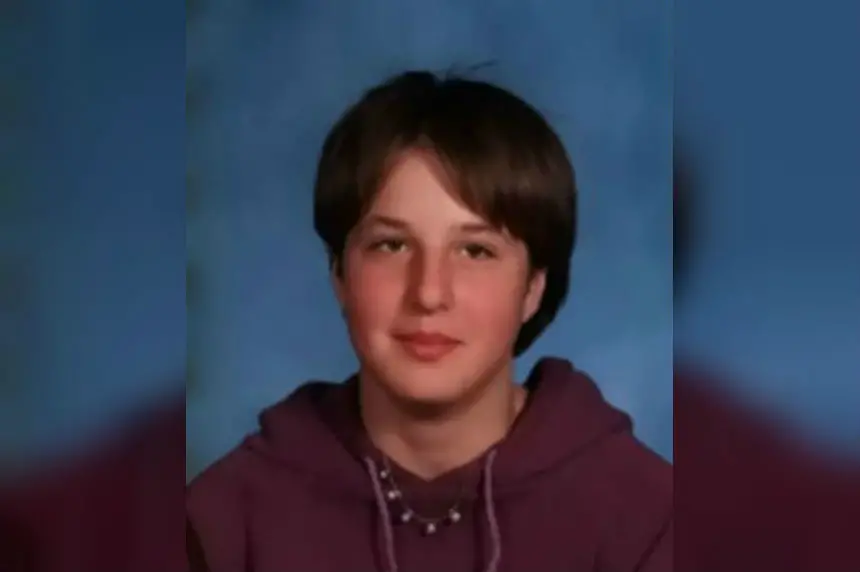 On the 9th of July, 2004, at 11:30 p.m., Courtney STRUBLE, 13 years old, was last seen walking towards her residence in Estevan, SK. There have been reported sightings of STRUBLE, however, she has not been located. Investigation and searches have failed to locate Courtney STRUBLE.
Courtney vanished in the early morning hours of July 9, 2004, after watching a movie with friends at the Estevan Veterinary Clinic on the west edge of the city. Her friends offered her a ride home, but she decided to walk.
She was last seen at approximately 12:30 a.m. in the vicinity of Highway 39 and Woodlawn Avenue North (now Sister Roddy Road).
Sgt. Donna Zawislak from the Saskatchewan RCMP's Historical Case Unit said the RCMP hasn't received a lot of new information about the case during the past year.
"When the RCMP received the file in 2009, it was an active, ongoing investigation, and we interviewed a lot of people, and we re-interviewed a lot of people, because back when Courtney went missing, there were people initially spoken to, but we basically started from scratch, and started the investigation over again," Zawislak said.
In the last couple of years, they talked to as many people as they could, but they can only talk to people so many times.
As with any cold case, Zawislak believes someone knows something, but they're holding back that vital information.
"We just don't know why they're holding back. Sometimes time can be in our favour, and time goes by and life circumstances change. They can have a change in conscience or lifestyle, and at some point they come forward."
Investigators have not been in Estevan to deal with the file during the past 12 months. They have been to a couple of other communities where information has come in, although Zawislak could not divulge those communities.
Most of the information they do receive usually comes at around the anniversary of Courtney's disappearance, due to the heightened media attention.
"One of the challenges is that a lot of the information is repeat, it's stuff we already know. But having said that, we will never deter people from calling in. We'd rather have people call us and let us know what they have for information."
People might not think their information is relevant vital, but Zawislak said it could push the investigation forward.
"That's why we want people to talk about Courtney and remember her, but also help us bring Courtney home to her family," Zawislak said.
One of the biggest challenges they face is to get people talking about the file again.
The RCMP does not have anything planned for the Estevan area to mark the 15th anniversary of Courtney's disappearance.
"We're just hoping to bring Courtney home. We try to take this one step at a time. We've had success with historical files, and it doesn't matter how much time has passed, this will always be an open file for the historical case unit. We're hoping that someone will come forward who can just open that door."
Courtney's disappearance was initially treated as a missing person case, and foul play was not suspected. But in 2010, the RCMP's Historical Case Unit (HCU) took over the investigation from the Estevan Police Service, and a short time later, the HCU started treating her disappearance as a homicide.
Courtney was five-foot-three and weighed between 110 and 125 pounds when she vanished. She had a birthmark on the nape of her neck, and a 1 1/2-inch scar on her left shin.
The night that she disappeared, Courtney was wearing a grey hoodie, blue jeans and running shoes.
Anyone with information can contact the RCMP or Crime Stoppers at 1-800-222-8477.
Credit: https://www.estevanmercury.ca/news/law-enforcement/a-sad-anniversary-in-missing-person-case-of-courtney-struble-1.23879134
Also Read:
https://www.cbc.ca/news/canada/saskatchewan/15-years-since-courtney-struble-disappeared-1.5205435
https://regina.ctvnews.ca/investigation-into-estevan-girl-s-disappearance-still-open-15-years-later-rcmp-1.4500870
https://discoverestevan.com/local/15-years-after-courtney-struble-disappeared-the-investigation-has-not-stopped
https://www.cjme.com/2018/07/10/14-years-later-rcmp-still-looking-for-courtney-struble/
Thank You For Visiting Missing People Canada
Please share our missing person posts on your social media accounts so that we can help bring them home!
You can also find our missing person posts on:
Facebook: https://www.facebook.com/MissingPeopleCanada
Twitter: https://twitter.com/OntarioNorth
Reddit: https://www.reddit.com/r/MissingPersonsCanada/
Instagram: https://www.instagram.com/missingpeopleca/

We also post videos on TikTok at https://www.tiktok.com/@missingpeoplecan

Donate To Missing People Canada: If you wish to donate to Missing People Canada please visit our donation page here: https://missingpeople.ca/donate-2/