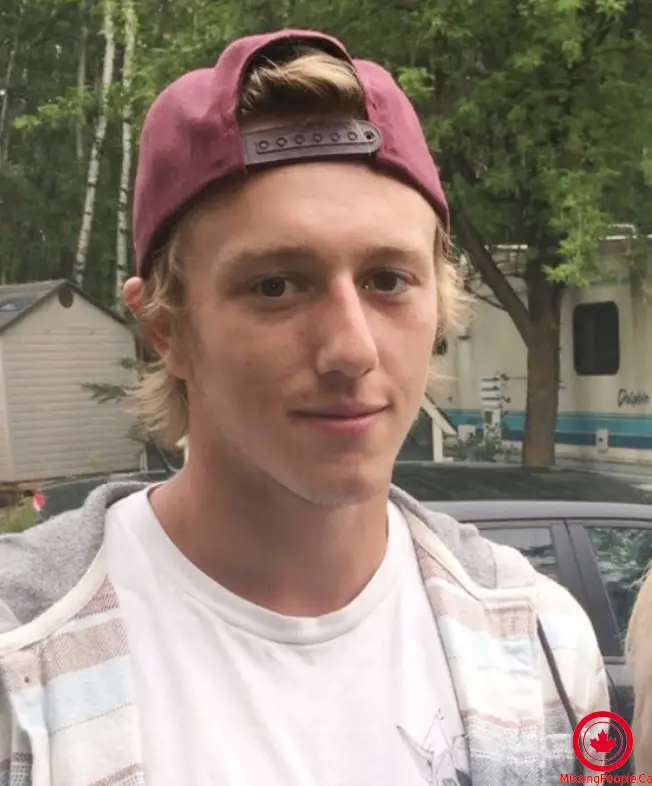 The Shtuka family was surrounded by loved ones as they lit candles and walked through Sun Peaks Village, marking five years since 20-year-old Ryan Shtuka went missing from the mountain resort.
The young Alberta man worked at Sun Peaks and disappeared after leaving a house party in the early morning hours of Feb. 17, 2018. A police investigation is ongoing, and the family continues to organize searches in the area.
The candlelight vigil was one of a few events held in Ryan's honour at Sun Peaks on Friday, Feb. 17, with dozens taking part in the annual Run for Ryan ski.
Heather Shtuka, Ryan's mother, said over the years there's often been an unexpected break in the weather on Feb. 17, like a burst of sunshine through a cloudy, foggy sky just in time for the 3 p.m. ski run.
"We just think that it's Ryan that comes to support us," Shtuka said.
She said on Friday, she woke up to a beautiful blue sky.
"I remember skiing down by myself today, and at one point, it was just this bright sunlight that came through and I just thought, 'Okay. He's with me as I go.' He's probably laughing at me skiing — because he's so much better than I was — but I did feel like there was that connection to him."
Scott Shtuka, Ryan's father, said the ski run was the most memorable part of the day for him.
"We all came down from the top of the mountain with probably 40 people, our close friends and family came," Scott said.
"Everybody took their time. It was like a candlelit vigil, but going down a hill and doing something Ryan loved to do — skiing and snowboarding."
People travelled to Sun Peaks from the Kamloops area, from the Shtuka's home province of Alberta, and from as far away as Saskatchewan and Nova Scotia to support the family. One man held a sign that had Ryan's story printed on it, along with large, block letters saying "We will never give up."
Many who gathered on Friday had only met the family in the wake of Ryan's disappearance.
Jesse Pochay said she has known the Shtuka's for five years, after hearing about Ryan's disappearance and coming up to the mountain to meet with the family during the subsequent searches. She said it was important for her to be in Sun Peaks "for the love of Heather and Scott and the girls."
"We never got to know Ryan — but we do know him, through Heather and Scott," she said.
"They are very special people, very outstanding people."
Indigo Johnson, who travelled to Sun Peaks from Little Fort, said she had also got to know the Shtuka family after Ryan went missing.
"I think it started with Heather's writing for many of us, reading her story," Johnson said.
"All of us saw Ryan as our son, our brother, our friend. She really opened up her family's life and Ryan to us and to everyone in his community now, to connect with some part of their family."
Claudia Cooper, another friend of the family, said the atmosphere during Friday's events was "hard to put into words."
"There's a lot of love, just for the family, for each other, for all of us. And it's important to support them," Cooper said.
Shtuka said she also took time to be with her daughters and husband Scott on Friday.
She said this year, one of her daughters got a tattoo in Sun Peaks to commemorate Ryan — three four-leaf clovers, each one drawn by a member of their immediate family.
"We have really understood and recognized the importance of surrounding ourselves with our girls, that we hang tight as a family. And particularly on this day, we like to check in with them," Shtuka said.
"We like to remember those moments when we were all together and whole."
FULL STORY: https://www.castanet.net/news/Kamloops/412259/Shtuka-family-loved-ones-gather-at-Sun-Peaks-five-years-after-Ryan-Shtuka-s-disappearance
Thank You For Visiting Missing People Canada
Please share our missing person posts on your social media accounts so that we can help bring them home!
You can also find our missing person posts on:
Facebook: https://www.facebook.com/MissingPeopleCanada
Twitter: https://twitter.com/OntarioNorth
Reddit: https://www.reddit.com/r/MissingPersonsCanada/
Instagram: https://www.instagram.com/missingpeopleca/

We also post videos on TikTok at https://www.tiktok.com/@missingpeoplecan

Donate To Missing People Canada: If you wish to donate to Missing People Canada please visit our donation page here: https://missingpeople.ca/donate-2/