Articles/Notices
Kamloops, BC RCMP confirm foul play likely behind disappearance of Shannon White, 32 – (Last seen Nov. 1, 2021)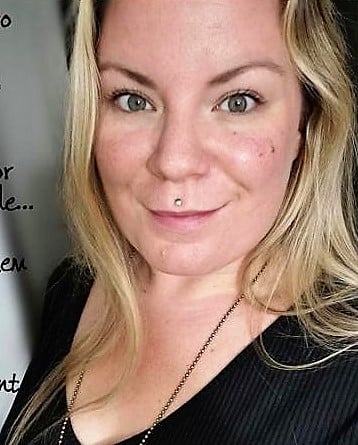 Police believe missing Kamloops resident Shannon White has been the victim of foul play.
That was the word on Thursday (Sept. 8) to city council's community services committee from Kamloops RCMP Insp. Jeff Pelley.
White, 32, has been missing for nearly a year and was last seen on Nov. 1, 2021, leaving her Bestwick Court home in Lower Sahali to drive two kilometres to her job at Kamloops Hyundai at 940 Notre Dame Dr. in Southgate.
Her black 1997 Jeep TJ was found abandoned the next afternoon, Nov. 2, downtown in the 200-block of Nicola Street and the RCMP's serious crimes unit has been investigating ever since.
"Our missing person file of Ms. Shannon White continues to be a priority," Pelley told the city committee. "It's suspected she's a victim of foul play. We are continued on a number of taskings and high risk priority tasks with this investigation [and] searching several areas you may have seen on social media."
On the day White left for work, her Jeep was spotted shortly after she was expected to have arrived at work, at 8:30 a.m. The vehicle was seen leaving Kamloops west on Highway 1 for a 45-minute period. Later that day, the Jeep was seen travelling north past Rayleigh on Highway 5 at about 5:30 p.m. before returning south at about 6:15 p.m.
By Nov. 10, Kamloops Search and Rescue and the RCMP were searching for White in the wilderness west of Kamloops, off Highway 1, and north of the city off Highway 5, including in the Heffley Creek area, by Nov. 15.
Police also had a presence, starting on about Nov. 10, in the Silver Sage Trailer Court off Highway 5, searching the travel trailer of White's ex-boyfriend. White's friends have told KTW the two had a tumultuous relationship and breakup about a year before she vanished.
Police cleared the trailer court by Nov. 16. One neighbour told KTW there was a heavy police presence the first night officers were there, adding that the RCMP seized three vehicles from the property. To date, no charges have been laid in connection with White's disappearance.
White stands 5-foot-5 and weighs 180 pounds. She is white and has blond hair, green eyes and fair skin. She sometimes wears glasses, has a Medusa lip piercing and a tongue piercing and several large arm tattoos, including a portrait of her dog, Buddy.
Anybody with information on her whereabouts is asked to call Kamloops RCMP at 250-828-3000.
After weeks of searching, Kamloops Search and Rescue ended its involvement on Nov. 21 due the unlikelihood of finding anything with winter approaching.
Multiple community-lead searches have been ongoing throughout the year for White, organized over social media, many involving Search and Rescue and Detection K9s of British Columbia (SRD K9s).
The non-profit organization's president, Mike Ritcey, told KTW that since KSAR was stood down, SRD K9s has been involved in about 27 public searches for White. He said the searches have focused on areas where police reported White's vehicle being seen, noting searches have been done around Heffley Creek, Inks Lake and Cherry Creek.
However, despite the efforts, Ritcey said no signs of White have been found.
"Not a shred of evidence," he said.
Ritcey said the searches have covered a large area, but did not want to venture a guess as to how big an area has been covered to date.
"The areas we have [searched] have been covered really well," he said.
Ritcey said more searches for White will be done, but at the moment none are planned. He said they plan to renew searching toward the end of September or October and will expand upon the areas already searched. Ritcey said a few more cadaver dogs will also be used in future searches.
Anyone wishing to volunteer with the search efforts can visit the SRD K9's website at srdk9s.ca.
Ritcey said he is also part of a group of people that looks for multiple missing persons when official searches have been stood down, noting the group has been searching for people such as Ryan Shtuka, who went missing from Sun Peaks in 2018 and Merritt cowboy Ben Tyner, who vanished in January 2019 and whose disappearance is considered a homicide by police.
https://www.kamloopsthisweek.com/local-news/kamloops-rcmp-confirm-foul-play-likely-behind-disappearance-of-shannon-white-5795825
Thank You For Visiting Missing People Canada
Please share our missing person posts on your social media accounts so that we can help bring them home!
You can also find our missing person posts on:
Facebook: https://www.facebook.com/MissingPeopleCanada
Twitter: https://twitter.com/OntarioNorth
Reddit: https://www.reddit.com/r/MissingPersonsCanada/
Instagram: https://www.instagram.com/missingpeopleca/

We also post videos on TikTok at https://www.tiktok.com/@missingpeoplecan

Donate To Missing People Canada: If you wish to donate to Missing People Canada please visit our donation page here: https://missingpeople.ca/donate-2/