Articles/Notices
Updated: Police searching for man after attempted abduction of 8-year-old girl at Etobicoke school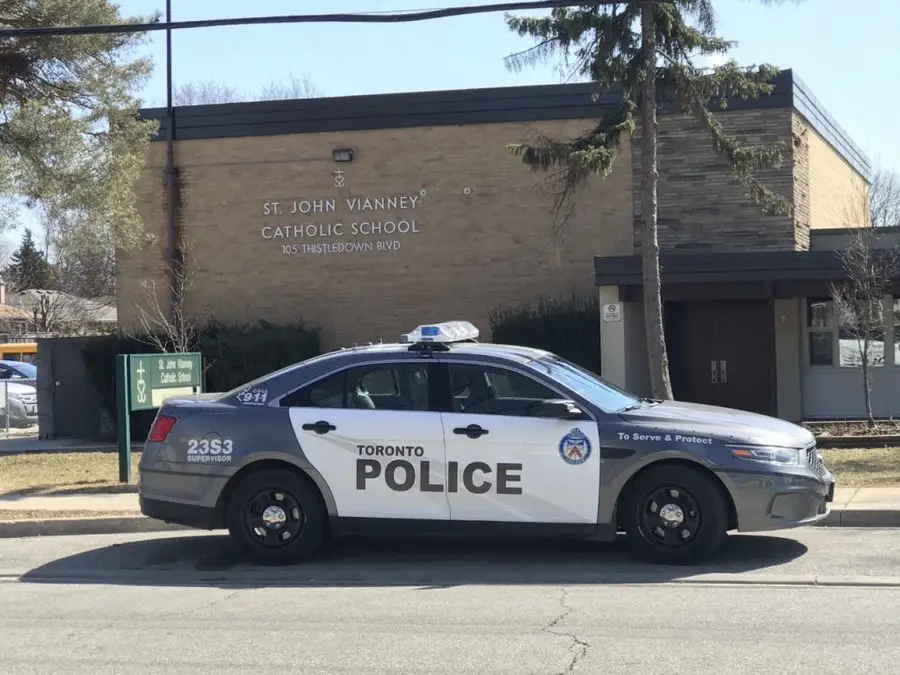 The Toronto Police Service would like to update the public on an investigation into the attempted abduction of a girl under the age of 10.
On Friday, March 19, 2021, at approximately 12:27 p.m., officers responded to a call for an unknown trouble at St. John Vianney Catholic School.
It is reported that:
– a girl under the age of 10 was approached by an unknown man
– the unknown man picked the girl up
– he put the girl down and fled the area
He is described as white, 6'0″, with a heavy build. He was wearing a black ski mask, black baseball hat, black sweater, black gloves, black pants, black shoes and carrying a black backpack.
Investigators continue to look into these allegations and urge anyone who was in the area, that may have dashcam or security camera video, to contact police.
Anyone with information is asked to contact police at 416-808-7474, Crime Stoppers anonymously at 416-222-TIPS (8477), online at www.222tips.com, online on our Facebook Leave a Tip page, or text TOR and your message to CRIMES (274637). Download the free Crime Stoppers Mobile App on iTunes or Google Play.
For more news, visit TPSnews.ca.
---
Toronto police are searching for a male suspect who allegedly tried to abduct a young girl when she was out for recess at her Etobicoke school.
Officers were first notified of the incident around 12:30 p.m. on Friday outside St. John Vianney Catholic School, located near Albion Road and Islington Avenue.
Police said the man allegedly approached an eight-year-old girl and tried to put her over his shoulder.
Investigators said it's believed children began yelling at the man who dropped the girl and fled the scene towards the Humber River.
"We have officers in the area searching for the suspect at this time," said Const. David Hopkinson.
The girl did not suffer any injuries as has been reunited with her family.
Police describe the suspect as a white male with a heavy build, dressed in all black with a black mask.
The Toronto Catholic District School Board said it was "deeply troubled" by the incident but thankful that the student escaped unharmed.
"School staff will be reviewing safety tips with students and our facilities staff will examine the school perimeter to ensure it is safe," read a statement released Friday afternoon.
"We also encourage families to monitor their child's behaviour over the next few days and if there are signs of anxiety, to please contact the school for appropriate supports, including Social Work and Guidance Counsellors."
https://toronto.citynews.ca/2021/03/19/police-searching-for-suspect-after-attempted-abduction-of-8-year-old-girl-etobicoke-st-john-vianney-catholic-school/