Articles/Notices
Saskatoon – Missing And Murdered Indigenous Women And Girls Monument Unveiling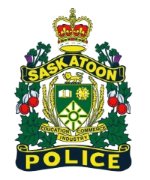 In collaboration with the Saskatoon Tribal Council (STC), the City of Saskatoon and the Saskatoon Police Service (SPS), construction on the statue honouring missing and murdered Indigenous women and girls is taking place outside our headquarters building. The statue will have a permanent home in the plaza area in front of the building, near the main entrance.

Created by artist Lionel Peyachew, the life-sized bronze sculpture depicts a woman named Wicanhpi Duta Win or Red Star Woman, a fancy dancer with her shawl as her wings. The sculpture was chosen in 2015 following a vote on several different submissions. The project is funded by the STC, the Province of Saskatchewan and the SPS.

A formal unveiling is planned for Friday, May 5, 2017, beginning at 11:00 a.m. in front of the SPS Headquarters building at 76 – 25th Street East. The public is welcome to attend. It is recommended that those attending arrive early, as large numbers are expected.